If you're dreaming of a Mediterranean paradise with crystal-clear waters and golden sands, Greece's biggest island is sure to leave you in awe. Not only that, but Chania, the westernmost region of Crete, should be at the top of your bucket list, offering an array of breathtaking beaches that will make your beach-hopping adventure an unforgettable experience.

But with so many beautiful beaches around Crete, how will you choose the best ones to visit?

Balos Travel is here to help with a list of the most popular – and for good reason! – beaches in the area!

Are you ready to explore the top 10 beaches in Chania, Crete?
What you need to know about Chania (Crete) beaches: An introduction
Chania, located on the west of Crete, is renowned for its diverse and picturesque beaches but especially for its
secluded, serene coves.
It goes without saying that many beaches, like
Elafonisi
and
Falassarna,
are organized, offering sunbeds, umbrellas, and even food, so if you're feeling like relaxing at a beach bar, listening to music and enjoying the Greek sea and sun, you're all set.
However, some of the
best beaches in Crete
are non-organized, such as
Seitan Limani
and
Kedrodasos:
raw beauty, areas belonging to the Natura 2000 network, and alternative beaches where you'll swim in azure waters and connect with nature on a whole new level are at your disposal.
Before getting into specifics for each one, here's a list of the
top 10 beaches in Chania, Crete
that should be on every traveler's radar:
Balos Beach
Gramvousa Island
Elafonisi Beach
Falassarna Beach
Seitan Limani Beach
Frangokastelo Beach
Stavros Beach
Marathi Beach
Paleochora Beach
Kedrodasos
Now, let's dive into the details of each of these gems!
1. Balos Beach – One of the best beaches in Greece
A heaven on earth, with turquoise water and soft sand,
Balos beach
is not only considered one of the
best beaches in Crete
, but also in Greece and Europe, too!
The sandy strip of land connecting Balos to Tigani peninsula changes depending on currents and sea level, forming different lagoons day after day, so it's definitely worth a visit.
Balos beach, located at the northwestern tip of Chania, is accessible either by car through a dirt road or by boat from Kissamos. The
boat to Balos beach from Kissamos
departs every morning, and it's advised to book your tickets in advance, because things tend to get crowded, especially during peak summer months.
The azure
Balos lagoon
features organized parts where you can rest under an umbrella and let your kids play in the shallow waters or with the powder-like sand.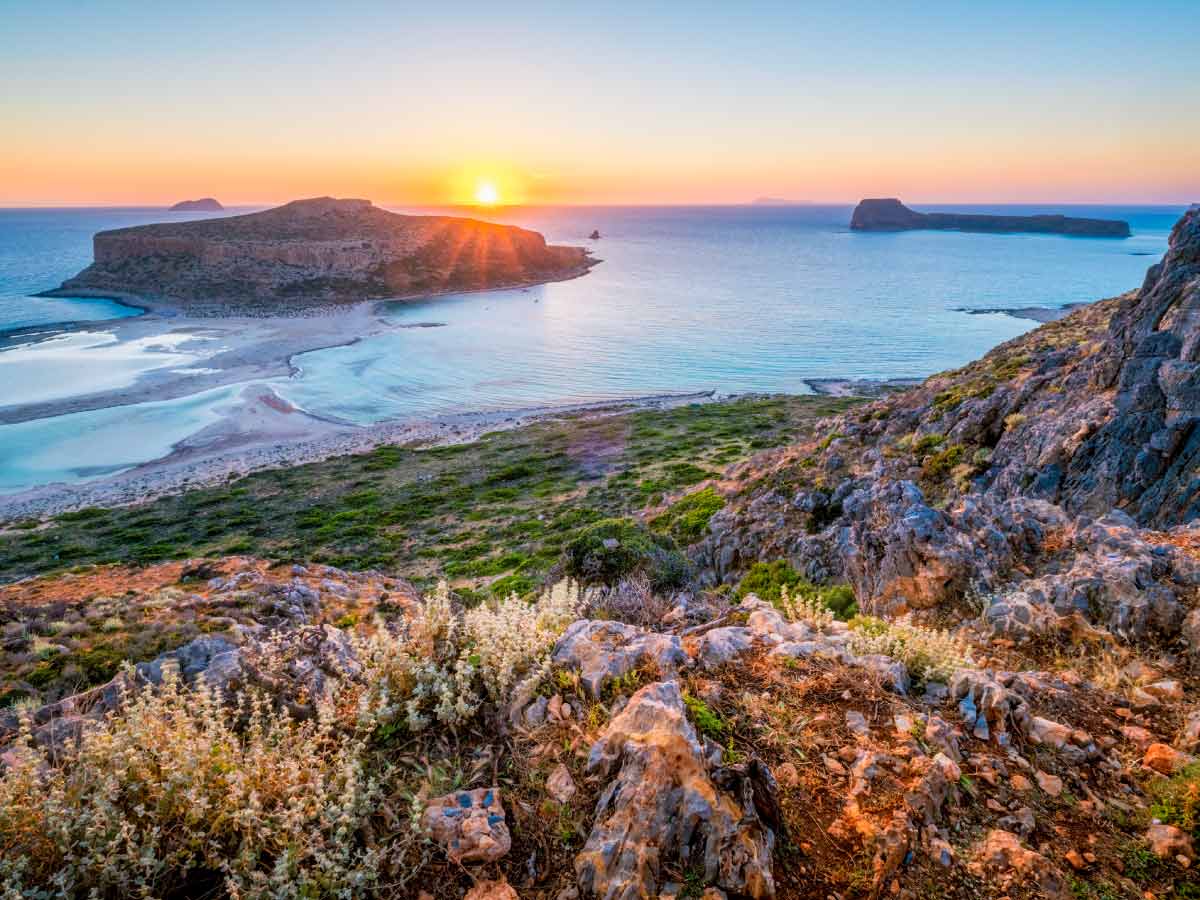 2. Gramvousa Island – Raw beauty at its finest
Gramvousa island
, right across Balos lagoon, offers a remote, almost otherworldly experience that is perfect for people who love swimming or snorkeling. The mesmerizing turquoise waters and unique landscapes of
Gramvousa
are sure to take your breath away, but since this is a non-organized beach, make sure you have snacks and water with you.
To reach this paradise, you'll take a
boat from Kissamos
– it's best to start early to avoid crowds and enjoy a day filled with serenity and natural beauty!
Pro tip
: Don't skip the opportunity to
book a private cruise to Gramvousa and Balos
in order to escape the crowds. It's a once-in-a-lifetime experience that you will cherish forever!
3. Elafonisi Beach – The famous pink beach of Crete awaits
To visit
Chania
, Crete, and not head for a swim to
Elafonisi
is a crime!
Elafonisi
, often referred to as the
Pink Beach of Crete
is a true wonder: its unique pinkish sands and crystal-clear waters make it a must-visit destination.
Wondering
how to get to Elafonisi beach from Chania?
You can rent a car and take a scenic drive southwest for about 75 kilometers but keep in mind that this is a rural area, so the roads are mountainous and with a few turns. Alternatively, you can join a
guided day trip to Elafonisi from Chania
, offering you a hassle-free journey to this natural wonder.
No matter how you reach
Elafonisi beach
, you'll be glad to find an organized beach here, with sunbeds, umbrellas, and snacks! Children will absolutely love the shallow turquoise waters and rose-tinted sand, but the beach is also popular with couples and groups of friends, since it also offers water sports!
Further reading:
Elafonisi beach: Everything you need to know before your Crete vacation
4. Falassarna Beach – Enough space for everyone
Falassarna Beach
boasts a (really!) wide stretch of golden sand and clear waters – it's actually 5 consecutive beaches, so there's enough space for everyone!
Falassarna
is a 1-hour drive from Chania, but the scenery along the way is just as remarkable as the beach itself.
As a beach, it's perfect for both relaxation and water sports enthusiasts, with several beach bars along the shore. Please note, however, that it might get windy at times.
5. Seitan Limani Beach – The most secluded of all
Wedged between 2 cliffs and requiring a 20min downhill trek to reach it,
Seitan Limani
, meaning
Devil's Port
, is definitely one of the
most beautiful beaches in Crete.
Be prepared for a challenging journey, as the access road is steep and unpaved. However, the reward is unspoiled beauty.
The best part? Once there, you'll most likely hand out with goats that roam the beach freely – this is their home after all!
6. Frangokastelo Beach – Where natural beauty and history meet
What makes
Frangokastelo
, near Sfakia, one of the
best beaches in Crete
is its castle – this is where the beach gets its name, too.
The fortress in the background, the beautiful waters, the taverns along the coast, and more, make Frangokastelo a must-visit.
Fun fact:
The area around Frangokastelo castle has also been associated with "Drosoulites" ("dew shadows"), visions of human-like shadows resembling the fighters that died during the Battle of Frangokastelo in 1828. The phenomenon is observed around late May or early June, during specific atmospheric conditions.
7. Stavros Beach – Calm and transparent, perfect for families
Stavros Beach
, known for its unique rock formations, is a tranquil spot ideal for families.
It's also famous for its role in the film "Zorba the Greek" – if you're a movie buff, you must have seen Anthony Quinn dancing on Stavros beach during the last scene of the movie.
The calm waters and charming village nearby make it a lovely day trip from Chania, where you can also enjoy some of food at one of its many traditional taverns!
8. Marathi Beach – Organized beach, perfect for water sport enthusiasts
Just 16 kilometers from the city of Chania, making it an ideal destination for a half-day escape,
Marathi Beach
is a hidden gem located on the Akrotiri Peninsula.
The shallow, calm waters, and a selection of seafood tavernas make it perfect for families and food lovers, while it also offers several watersports options, like SUP and kayaking.
9. Paleochora – One village, many beaches
Paleochora
is a charming coastal town with several excellent beaches.
Pachia Ammos
is among the
top 10 beaches in Chania, Crete,
with other options including
Grammenos, Karavopetra, Psilos Volakas, Krios, Gialiskari
and more – all within a few kilometers' distance, crystal clear water and amenities for everyone!
This area offers a more relaxed and authentic experience compared to some of the busier beaches near Chania, so it's worth your while.
10. Kedrodasos – The last untouched paradise
Just 1 kilometer away from Elafonisi,
Kedrodasos
is full of
sand dunes
and
junipers
, with crystal clear water and white sand.
This is a non-organized beach, so you need to come prepared, and there are also several spots and coves for nudists.
Kedrodasos
, just like Elafonisi, is part of the Natura 2000 network, and still remains one of the last untouched paradises on the island.
Don't miss the chance to explore its beautiful surroundings and enjoy a laid-back atmosphere.
Best beaches in Chania – Honorable mentions
As already mentioned, the area around Chania features dozens of beaches worth visiting.
Besides the top
10 beaches in Chania, Crete,
mentioned already, here are a few more that didn't make the cut but are definitely worth considering:
Loutro, Glyka Nera, Agioi Apostoloi and Agia Roumeli,
the beach where you end up after
hiking Samaria Gorge
, are renowned for their azure water and golden sand – if you're spending a few more days in Crete, make sure to visit them and enjoy the island off the beaten path.
Further reading:
Samaria Gorge: The Definitive Hiking Guide For The Iconic Crete Location
Most beautiful beaches in Crete – Key takeaways
To put it simply,
Chania, Crete,
is a paradise for
beach enthusiasts.
Whether you're drawn to the unique pink sands of Elafonisi or the dramatic cliffs of Seitan Limani, this region offers a diverse range of stunning beaches to explore.
The most challenging part of your trip will be choosing which beach to visit first! So, pack your swimsuit, sunscreen, and a sense of adventure, and get ready to experience some of the
most beautiful beaches in Crete
, together with
Balos Travel!